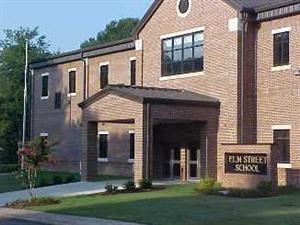 Elm Street Elementary was originally built in 1922. It was one of the first schools to be built in a planned community. The school was built around upscale homes far from the city of Rome, Georgia. Each street was named for a tree. Names such as Elm, Magnolia, Cherry, Oakland and Sycamore were used to organize the community. Therefore, Elm Street School was one of the first schools to be built with the concept of a suburb. Historians are studying the area for a grant with the Historical Preservation Society.
In 1983, a major renovation took place. It is one of the few genuine neighborhood schools left in the area. Therefore, there is a great deal of pride from parents, grandparents, community, staff and students. In fact, because of the uniqueness of the school, McDonald's Corporation selected it as a site for one of its national commercials concerning recycling. That was particularly appropriate because Elm Street School is lovingly referred to as a recycled school - old on the outside but new and innovative inside.
We are blessed with a culturally rich, diverse population including students from many parts of the United States and the world. Racial and ethnic groups include African-American, Caucasian, Hispanic, Middle Eastern, Native American, Far Eastern and Indian. The socio-economic background of our students covers a wide range. Some of our parents are single and unemployed, while others are physicians, attorneys and bank presidents. We also serve a foster group home known as the Open Door Home for temporary and long-term placement of homeless children.
There are many other schools our students could choose to attend, including a college preparatory school, two parochial schools, a college laboratory school, and a county school. However, many parents choose to send their children to Elm Street because of the strong parental support, culturally diverse student body, exceptional teaching staff, innovative curriculum, and high expectations for behavior and academic excellence.